Reviews
Heavy Horns (29th April 2015)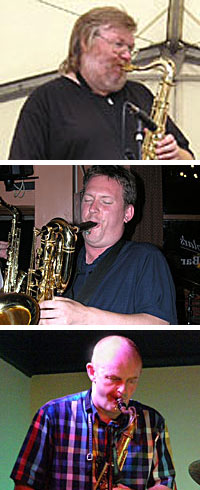 The three saxophonists that make up the front line of the Heavy Horns, Jim Corry, Stuart MacDonald and James Russell (stepping in for an indisposed Rod Mason), had between them the entire saxophone range.
With them was an outstanding rhythm section, Richard Jones - piano, Paul Baxter - double bass and drummer Kristoffer Wright. Their contribution to the success of the evening was huge.
Kicking off with Hank Mobley's Funk In The Deep Freeze, this sextet immediately showed why there was barely a seat to be had in the Cask Played with infectious swing, all the musicians had an opportunity to shine individually after their impeccable ensemble work.
With seven saxophones between them, it was interesting to note how the front line deployed their 'armoury' to alter the group sound. They were at their heaviest with two baritones and a bass saxophone. This combination was used for two Charlie Parker compositions, Scrapple From The Apple and Diverse. Stuart plays the enormous bass sax nimbly, acknowledging its comic potential but also bestowing it with a lumbering dignity. He also played tenor sax on which he excels.
James and Jim had the choice of soprano, alto and baritone saxes, mixing or matching these to great effect.
The group's repertoire was impressive, with compositions from Ray Brown, Horace Silver and Clark Terry, among others.
The very high degree of musicianship from all six of the group was wonderful to hear. Their relaxed easy swing was a joy whether they were at their most lyrical or generating fierce excitement.
The delighted audience gave Marian Gordon a round of applause for sponsoring this fine band as part of her birthday celebrations.
Dick Armstrong
0 Comments
Posted on 04 May 2015 by admin