Welcome to Scarborough Jazz at the Cask
"
Just as I imagined an authentic jazz club would be...warm and welcoming...great crowd...always someone to chat to...fantastic programme with lots of variety.
"
The Cask has a range of real ales and a comprehensive food menu with wheelchair access and facilities for disabled people. Every Wednesday, music starts at 8.45pm. Find us here...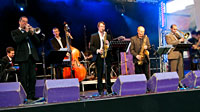 Coming next...
Weds 14th December | 8.45pm | £4 on the door (FREE for players)
Seven Pieces of Silver Christmas Party
For its annual Christmas party Scarborough Jazz Club is bringing back Seven Pieces of Silver playing the music of jazz giant Horace Silver.
Led by bass player Paul Baxter, the band features a great four-piece horn section with Stuart MacDonald on alto and baritone saxes, Kyran Matthews on tenor, Will Blackstone on trumpet and Matt Ball on trombone, plus Andrzej Baranek on piano and Paul Smith on drums.
More...
January-April 2017 programme
Northern Jazz Live
Itís really worth having regular looks at Northern Jazz Live (Norvoljazz network). It has lots of useful information about regional gigs.
northernjazz-live.blogspot.co.uk