Reviews
Alan Barnes, Matthias Seuffert, Jim Birkett Trio (3rd April 2013)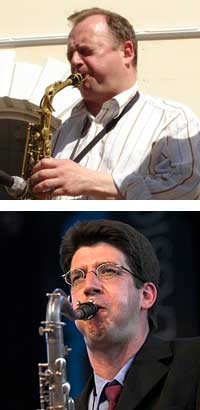 The keynote of this evening was brilliant musicianship delivered with great good humour by all concerned.

Alan Barnes brought clarinet, alto and tenor saxes while Matthias had clarinet and tenor Mixing and matching these reed instruments allowed refreshing changes in sound, something that Alan seems very conscious of - even the order of solos was unpredictable.

The repertoire was a well chosen mix of jazz standards, ballads and a blues, none of them over familiar - with the possible exception of the encore, Cherokee.

Perhaps not surprisingly, five of the nine numbers played were written by saxophonists. The opener, Coleman Hawkin's " Bean And The Boys" gave everyone a chance to shine and clearly showed just how good this gig was going to be.

Stylistically, the two saxophonists were pleasantly different. Matthias is impressive on tenor and very expressive on clarinet. Alan positively dances across the time and flows effortlessly through the changes. Together these two magically wove lines around each other with great skill and respect.

They were well supported by the trio of Jim Birkett - guitar, Mick Shoulder - double bass and Paul Tilley on drums. Paul's contribution to the evening was considerable, whether buoyantly supporting the ensemble, soloing or providing inventive eight and four bar breaks.

Mick also had a lot of work put his way and produced many nimble fingered solos as well as his solid timekeeping duties.

Jim's guitar playing was pivotal to the group, feeding the chord changes, setting moods with introductions and providing many eloquent solos.

There were more highlights than can be listed, but "After Supper" from the first set was extraordinarily good. From the second set, Lockjaw Davis's "Hey Lock" was a genial two tenor battle reminiscent of those between Wardell Grey and Dexter Gordon and as exhilarating.

Thanks are due to Scarborough Jazz for organising a superb evening of quality jazz.
Dick Armstrong
0 Comments
Posted on 11 Jun 2013 by admin