Reviews
The Heavy Horns (5th June 2013)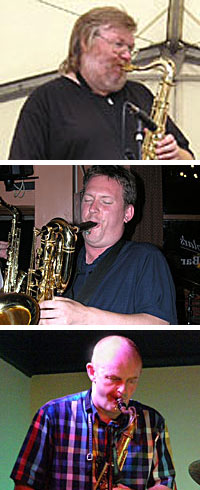 The sense of anticipation was high as this band set up. After all, The Heavy Horns are one of the most exciting jazz groups around and they had not played The Cask for four years. Additionally, rather than use the resident trio as in the past, they had their own handpicked rhythm section.
The musicians were delighted to see each other - always a good sign - and we could see who had brought what. Rod Mason had soprano, alto and baritone saxes, Jim Corry had alto and baritone, leaving Stuart MacDonald with tenor and the enormous bass sax.
Making his first appearance at The Cask was pianist Sean Miller. On bass and drums respectively were Ben Crosland and Dave Tyas.
They opened the first set with I Want You by Horace Silver, which saw Rod skittering nimbly over the chord changes on soprano, Jim in storming form on the baritone and our first taste of Sean's clean, exciting piano playing. Stuart was passionate and swinging on tenor, with bass and drums driving everyone along buoyantly.
The rest of the set consisted of two blues numbers, Charlie Parker's Scrapple From The Apple, a gentle bossa and a Ray Brown composition. All were shot through with changes of sound and texture, wonderful harmonies and clever ideas.
A Horace Silver number - Nutville - also kicked off the second set, followed by a Clark Terry composition. We were then treated to Art Blakey's re-working of Caravan and after that to the first ballad of the evening, Ellington's In A Sentimental Mood. This was announced as In A Semi-Mental Mood and featured Jim's alto burnishing the melody against harmonies so rich that they raised the hairs on the back of the neck. Sean created a cool, introspective piano solo over Ben's rich bass playing.
Far too quickly we were past the final number and into the obligatory encore - Benny Golson's Killer Joe. This featured the front line trading exhilarating eight and then four bar passages.
Following much well-deserved applause, we were left to reflect on an evening of dazzling musicianship, novelty and excitement.
Dick Armstrong
0 Comments
Posted on 11 Jun 2013 by admin