Reviews
Nicola Farnon Trio (3rd July 2013)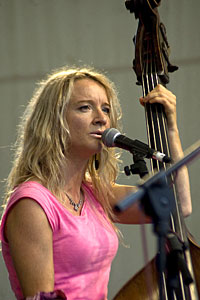 Nicola Farnon is a small woman with a big personality. She reaches out to an audience and seems to enfold them. Once under her 'spell', criticism -or even comparison - seem absurd. Nicola is simply Nicola and the Farnon phenomenon sweeps you away.
Her vocals and bass playing are enhanced by Piero Tucci, a very gifted pianist who also doubles on sax and Phil Johnson is the superb drummer who completes this swinging trio.
Their individual skills emerged during the first set. Phil showed himself to be as powerful and driving with brushes as well as sticks. On two sambas, he held a shaker in his right hand but his drumming did not seem limited or hampered by this.
Piero, who smiles all the time he is playing so inventively, produced many rich and intricate solos. Of his three outings on the tenor sax, it was notable that they were markedly different. His first solo on an up-tempo Them There Eyes had exciting, rough edged rhythm and blues phrases. These did not occur during the trio's second instrumental number of the evening - Doxie, and his more introspective mood on Lullaby of Birdland produced a lovely solo.
As for the unflaggingly cheerful Nicola, well, she sang her heart out from opener to encore ( a very generous eighteen numbers!) All this while playing the double bass, engaging with the audience, selecting the tunes and generally being the leader.
Her gigs are fun occasions and deservedly popular. She had attracted quite a crowd, gave very good value and sent them home happy.
Dick Armstrong
0 Comments
Posted on 07 Jul 2013 by admin