Reviews
John Etheridge Trio North (27th November 2013)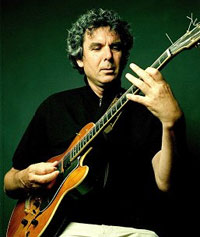 This highly accomplished trio gave us an excellent evening of jazz through a varied repertoire.
John Etheridge is a vastly experienced musician with great technical command. With him were Ben Crosland, who was rock-steady on fretless bass guitar, and drummer Dave Tyas, swinging and nimble on either sticks or brushes.
John employs a lot of digital hardware to help him achieve a wide range of electronic sounds. At this gig he had several pedal effect boxes linked to a wah-wah pedal, two amplifiers and three guitars. Two of the guitars also had tremolo levers fitted for extra effect!
None of that guarantees good music of course. That came from the musical sensibilities of these three players and was there in abundance. We were treated to numbers indisputably from the jazz repertoire, Willow Weep For Me and In Your Own Sweet Way for instance. Mixed with these were surprises such as Will You Still Love Me Tomorrow? and The Tennessee Waltz. Two or three numbers had a jazz/rock fusion feel that were very well received by those around me.
The good sized audience enjoyed a generous fifteen numbers and still seemed reluctant to let the musicians stop. It seems certain that there'll be a welcome return from Trio North ....
0 Comments
Posted on 05 Dec 2013 by admin