Reviews
Stuart McCallum Trio with The Real Strings (5th March 2014)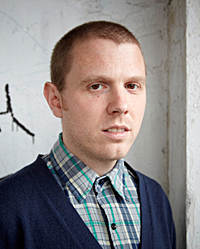 McCallum's high quality jazz trio/string quartet combo play an unorthodox trance-infused and highly melodic variant of jazz-rock fusion. At The Cask he was confident and relaxed, and led with warm authority; as principal soloist he was fluent and technically sharp without being flashy, at home switching between acoustic guitar and the highly variable tones and textures of his gizmo/synth enhanced electric. And throughout he demonstrated his convictions regarding the virtues of simple, clean, uncluttered melody, and open-ended, melodic improvisation (the compositions played were his own, with the exception of Coltrane's "Blue Train" and two McCallum/Mike Walker collaborations).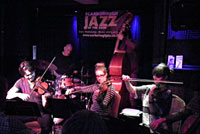 Dave Walsh's sympathetically adaptive, creative and multi-textured drumming complemented McCallum's inventiveness, and though McCallum and Walsh dominated the ears, Turner's contribution on acoustic bass was considerable. McCallum's trio/quartet combo is no mainstream modern jazz/fusion outfit – it isn't set up as a drum/bass rhythm section with an improvisational guitar/strings front-line - in accord with tradition/etiquette, Turner did occasionally solo, and did so well, but McCallum's arrangements utilised Walsh's solidity and ability to sculpt a rhythmic landscape in a way that freed Turner to bridge harmonically between McCallum and the spacey charts played by Steve Cordiner and Kath Ord (violins), Tanah Stevens (viola), and Ben Cashell (cello). The set had a holistic 'feel' – the fusion vibe (hints of Joni Mitchell, Frisell, and 'In a Silent Way'-era McLaughlin, with echo-ey chords rich in open strings), and a trance thing emanating from the strings - but McCallum also at times carved his own way through the space between jazz and folk that was sketched by Renbourn and Jansch, and at others he seemed to ghost around the footsteps of Fripp, Hillage and Richard Thompson, at least as much building rock solos that magically never even reference the blues as he is expanding/elaborating the vocabulary for jazz-rock fusion guitar.
To the extent that McCallum indulges in jazz politicking, he is sensitive and constructive: he clearly starts from the assumption jazz has always been a gumbo, and he respects standards of compositional integrity in that he doesn't compound his 'sin' of introducing new pop-culture flavours to the gumbo by indulging in a bitty post-modern cut-and-paste-fest. On the contrary, his fusion/s are seamless, and his philosophical drift seems to be modernistic and aestheticist: maybe something like: "What's the point of playing fusion if this act becomes instantly formulaic and recognisable as such, and what's the point of playing anything at all unless it sounds pleasant!" But either way, or some other way, this music was both enjoyable and thought provoking (and, by the way, the CD, "Stuart McCallum: Distilled Live", which contains much of the material played at The Cask, and is played with a similar feel, is well worth acquiring).
Diane Watson
0 Comments
Posted on 10 Mar 2014 by admin