Reviews
The Revolutionaires (2nd April 2014)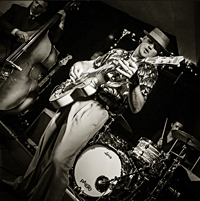 The publicity material for The Revolutionaires describes them as a "sizzlin' hot rhythm and blues combo." This is exactly right - but doesn't give any idea of how visual this band is to see live.
They dress the part, looking sharp and smart. They employ comedy business and choreography. Their leader, Ed Stephenson leaps, struts and dances; all while bellowing the vocals and playing lead guitar.

This quartet has got its stuff down to a 'T', playing high-energy, riff driven numbers with an infectious beat and irresistible swagger. Numbers like Fats Domino's Be My Guest, Hound Dog, Keep A Knockin and Big Joe Turner's Jump For Joy, were just a few of those played. Their sound is of early rock and roll, even on the older blues songs - they'd been given a hard edged makeover.

Gary Hoole was blistering on tenor and baritone saxes. Rich Stephenson played acoustic and electric bass to great effect. Drummer Mark Matthews gave exactly what was needed to help drive the group. It's Ed who is the central figure of the band, mesmerising, whether on keyboard, harmonica or guitar, and it is the memory of his frenetic footwork that will linger.

Overall, a thoroughly entertaining and enjoyable evening linked to The Blues Festival.
Dick Armstrong
0 Comments
Posted on 04 Apr 2014 by admin