Reviews
Djangologie (13th August 2014)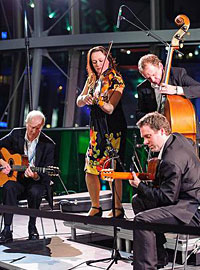 Djangologie delighted one of the largest audiences ever seen at The Cask.
This gypsy jazz quartet led by double bassist Mick Shoulder has some fine musicians. Mick introduced them as "Emma Fisk, the best violinist in the world", "Jim Birkett, the finest guitarist in the universe" and " Giles Strong, the best guitarist in the galaxy". Small wonder that their gigs are sold out everywhere!
They celebrate the music made by the collaboration of Django Reinhardt and Stephane Grappelli between 1934 to 1940.
This music has a special place in the hearts of many, and they are not all jazz fans.
Djangologie re-create the spirit of those swing era years with a mix of Hot Club numbers and new material that dovetailed seamlessly with the older repertoire.
These four very accomplished musicians sparkled throughout the evening, generating an infectious swing regardless of tempo.
Their ability to play a haunting, melancholy ballad and then to romp through an infectiously swinging standard is admirable.
They displayed musicianship of a very high order and listening to them was a wonderful treat. Djangologie will be invited to return - that's certain!
Dick Armstrong
0 Comments
Posted on 15 Aug 2014 by admin