Reviews
Nigel Price Organ Trio (15th October 2014)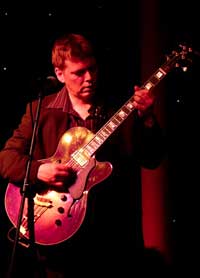 These three very accomplished musicians totally engaged a rapt audience with their skills and emotional intensity.

Drummer Matt Home is driving, urgent and very crisp , whether soloing or in ensemble. His invention makes him a very musical drummer indeed.

Ross Stanley coaxed a remarkable range of sounds from his 1961 B3 Hammond Organ. His mastery of this instrument with it's two keyboards, a range of sliding buttons and a host of foot operated levers; is clear both to see and hear.

The guitar playing of Nigel Price was recently praised by the great Quincy Jones - and rightly so. On this hearing alone he is the equal of any guitarist in the country.

However, it's the playing of these individuals together that make this trio the stand-out that it is.

They are about halfway through a lengthy tour and have gelled into a unit that can breath beauty into ballads or swing hard on up-beat material. Their repertoire is well chosen with a good mix of standards and Nigel's originals. Clever arrangements enlivened proceedings and expectations were subverted by unexpected twists and turns in the music.

This was such a sparkling evening that almost everything could be mentioned as a highlight. However, two ballads - Spring Can Really Hang You Up The Most and God Bless The Child - managed to raise hairs on the back of the neck.

The entire evening was exhilarating to witness as the level of musicianship was never less than stunning The storm of applause given to the trio at the close was heartwarming and richly deserved.
Dick Armstrong
0 Comments
Posted on 19 Oct 2014 by admin