Reviews
The Jim Mullen Organ Trio (4th February, 2015)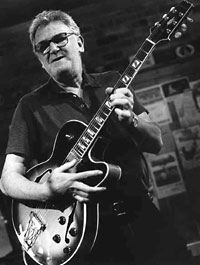 This trio of Jim Mullen - guitar, Dave Gorman - organ, and drummer Matt Skelton attracted a big audience who were treated to a skilfully played and unusual repertoire.
The opener, Jimmy Van Heusen's Deep In A Dream was taken at a spirited pace. Jim took the first solo and slyly quoted from Rockin' In Rhythm with Bye Bye Blackbird hard on its heels. Those were the first in a feast of fleeting references to other tunes throughout the evening.

For My Lady, was next, this elegant melody was taken slowly with Dave Gorman producing a surprisingly life-like double bass sound.

Leonard Bernstein's Lonely Town alternated between a 4/4 time signature and 6/4 every sixteen bars. This was maintained throughout the solos. Matt Skelton's drum solo was one of constant interest and was very accomplished. (Jim referred to Matt as "the powerhouse").
A little-known Jobim samba was a delight, with Jim beginning his solo with the last phrase of the organ solo. (In the second tune, Dave Gorman had begun soloing, using Jim's closing phrase.)

The second set began with a Chick Corea number - Highwire. This was a crisp toe-tapper with Jim showing an admirable dexterity. When one considers that he uses only his right thumb to pluck the strings, where other guitarists use thumb and fingers, this is a remarkable feat.

It was during this number that I became conscious of the wearying effect of the organ sound. There was a harsh quality that was unwelcome.

Next up was Lush Life. Jim began this gorgeous melody unaccompanied at ballad tempo and it's delicate beauty was a luminous highlight. Then organ and drums crashed in at a jaunty tempo, completely dispelling the fragility of what had gone before. Dave Gorman selected an effect that produced a 'squeaky' sound that was unpleasant to hear, and when Jim fleetingly played I Do Like To Be Beside The Seaside, I considered the Billy Strayhorn number well and truly dead!

A brilliant four bar drum intro kicked off the Dave Gorman composition Smokescreen. Both guitar and organ played the melody which was a nice change of sound. This as taken at a fast clip with more fleet fingering on the guitar.

At this point I felt that I had heard enough and left, keeping the memory of some very fine jazz playing to sustain me on my homeward journey.
Dick Armstrong
0 Comments
Posted on 11 Feb 2015 by admin