Reviews
Nicola Farnon (17th June 2015)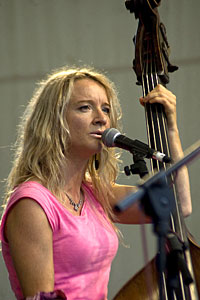 The best jazz performances happen when the musicians obviously love what they do.

This trio clearly showed that they wanted nothing more than to be playing for us, and the audience responded with enthusiastic warmth.

Nicola sings while playing the double bass and does both very well. If she were unable to sing (perish the thought ! ) she would never be out of work as a bass player as she is so skillful.

Luckily for us, she does sing - with passion and sensitivity.

Her repertoire consists of well known songs, many taken from the Great American Songbook. These have been neatly arranged to sound fresh.

With her are Piero Tucci on piano and tenor sax and Phil Johnson on drums.

Together they produce an irresistible swing that sets the feet tapping. They can be vigorously attacking or beautifully tender as required.

They take care to introduce changes to the group sound: Nicola sang unaccompanied to begin I Wish You Love, she began and ended Moonlight In Vermont with bowed bass and Lullaby Of Birdland opened and closed with just bass and voice.

During The More I See You - a cha cha cha - Piero played sax one handed, 'mirroring' what he played with his right hand on the piano!

A highlight from the first set was I Guess I'll Hand My Teardrops Out To Dry, with Nicola exploiting the rich, lower end of the bass's range.

From the second set, Cheek To Cheek was a crisp swinger with a 'sudden death' ending.

All together we were treated to an extraordinary seventeen numbers and the larger than average audience went home happy - as always from Nicola's performances.
Dick Armstrong
0 Comments
Posted on 21 Jun 2015 by admin