Reviews
The Shannon Reilly Trio (13th January 2016)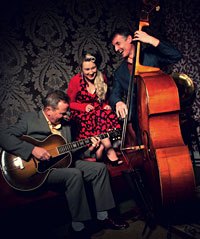 This group presents a complete package to the listener. With excellent musicianship, infectious swing and relaxed confidence, all laced together with humour, they give an enjoyable experience.
Shannon Reilly is a skillful singer who commands attention. Pat McCarthy is a guitarist whose technical ability is married to great sensitivity. Warren Jolly plays the double bass with dextrous skill and keeps solid time.

They have evolved interesting arrangements for their delightfully varied repertoire and they sing and play with deceptive ease.

Shannon sings simply, letting the melodies and lyrics do their work without over-decoration. Apart from swaying to the rhythm, she stays relatively still, her left hand moving sinuously in the air. Her voice is clear and her diction precise.

She was dressed in black, relieved only by a small gold pendant and tiny sparkling earrings. A silk rose was pinned to her black shoulder-length hair.

There was a lot of banter exchanged between them, humour is always a good sign in a group. One could amend the old cliché to: a good time was had by all three.

Shannon's introductions were mostly confined to song titles and which great singers they were associated with.

Pat's introductions managed to incorporate jokes - mostly at Warren's expense. Pat told us that someone asked Warren at the end of an evening, "how do you make it look so difficult?"

In the second half, when paying tribute to his fellow musicians, he said that he'd worked with Warren for thirty years. Adding, "It just shows how few bass players there are in Lincolnshire!" Such jokes obviously travel from gig to gig - Shannon responded to one by miming an extravagant yawn...

The evening produced twenty two songs - great value for anybody's money. While "Over the Rainbow" must be nearly seventy years old, "All About The Bass" is a contemporary number. "C'est si Bon" was sung in French, a samba in Portugese;and we were treated to three original songs written by Pat.

Gershwin's "S'wonderful" was romped through at a fast clip. "Every Time We Say Goodbye" was the slowest number, Shannon made this flow as smoothly as a fingertip along satin.

Between those extremes we were treated to a musical feast of lovely singing, sumptuous guitar solos and a great deal of irresistible bounce and swing.

This was their second appearance at The Cask. The audience hoped that they will return.
0 Comments
Posted on 17 Jan 2016 by admin