Reviews
Seven Pieces of Silver (2nd March 2016)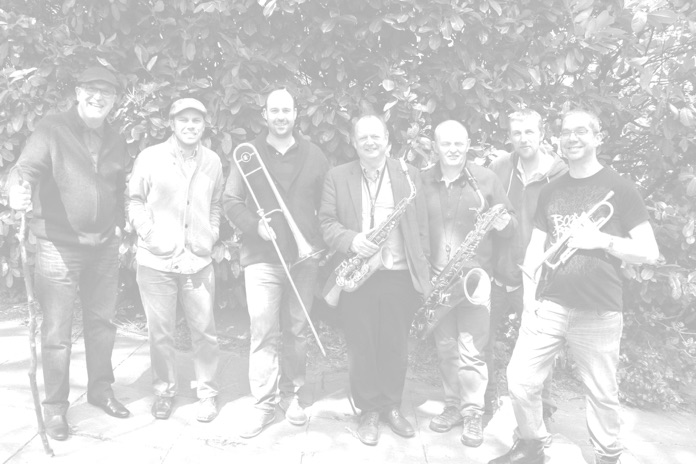 This fine band were on the penultimate gig of a thirteen date tour. They played with such energy and verve that they could have been on their first engagement!

The core of their repertoire is the music of jazz giant Horace Silver. Much of this has been arranged by their double bass playing leader, Paul Baxter.

A good humoured septet, they peppered the evening with banter and laughter. The music, however, was given the serious attention demanded by the dense and complex charts. The ensemble playing was tight and wonderful harmonies were achieved.

Individually, each musician is a talented improviser and it was a pleasure to see how keenly they listened to each other. The front line had James Lancaster - trumpet, Matt Ball - trombone, Kyran Matthews - tenor sax and Stuart Mac Donald on alto and baritone saxes.

Pianist Andrzej Baraneck, drummer Paul Smith and the leader's bass were the rhythm section. They formed a sensitive, swinging unit that inspired the four horns to play at their best.

Tempos were well chosen and nicely varied. I Want You, began with a jaunty New Orleans strut. The familiar Song For My Father was played in seven time, which made it sound very different.

Paul Smith was featured on Yeah! and gave a drum masterclass in advance of the melody. Matt Ball's trombone sound had a nicely burry edge and he twice used a plunger mute, exploiting the wah -wah sound with great skill.

James Lancaster's trumpet sound was clean and pure until the final number, when he treated us to a feast of slurs, growls and half-valving.

Kyran Matthews had a torrent of ideas and romped through many fast fingered solos.

Stuart MacDonald's playing was a constant delight, whether soaring on the alto or gruffly plumbing the lower range of the baritone sax.

Andrzej Baraneck also had a teeming flow of invention, his phrases were cleanly executed showing either measured passion or controlled intricacy.

Paul Baxter's bass playing had everything. Propulsive in the ensembles and dextrous in solos. His bowing on the opening of Peace, achieved a singing, sonorous elegance that was lovely.

The Seven Pieces Of Silver gave a dazzling evening of high quality jazz.
Dick Armstrong
0 Comments
Posted on 05 Mar 2016 by admin