Reviews
Frank Brooker (17th January 2018)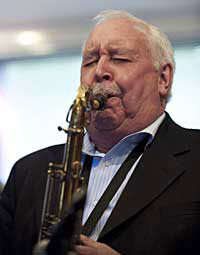 It is testament to Frank Brooker's enduring appeal that a full crowd braved Wednesday night's severe chill to see him at The Cask, Scarborough's archetypal jazz cellar.

A frequent visitor over the years, Frank has built up quite a following - who recognise his distinctive qualities on smooth and mellow tenor, on a clarinet as silvery as his hair and, indeed, on expressive vocals. They marvel, moreover, at his sheer inventiveness – on a range of material that ranges from popular standards to stuff as rare as hen's teeth.

Croydon-born, Frank was prominent on the London scene, playing with the best, before moving north in the early 1970s. Since then he has been much in demand, not least because of a rare facility to be in orbit with everything on a jazz spectrum from hot, via mainstream, to cool.
Tonight, he delighted with the most varied of programmes, encompassing music associated with, or by, of course, Basie and Ellington, as well as Clark Terry, Sony Rollins, Tubby Hayes, Eubie Blake and, not least, Hank Mobley (whose work appeared three times). Oh yes, just for good measure he threw in Crazy, a composition by C&W singer-songwriter, Willie Nelson, much associated with Patsy Cline. Daring!

Whether caressing on clarinet that lovely old Eubie Blake song Memories Of You, or riding the waves of Hank Mobley's imperishable Soul Station, on a funky tenor, all springy rhythm and thrilling ascents and descents, or getting the audience jumping with the Count's swinging boogie, Take Me Back Baby, Frank is the man for all seasons, a prodigious talent who can make his instruments talk, whisper, honk, whinny, serenade, excite as the mood takes him, always swinging, ever inventing, never recycling.

In the resident Mike Gordon Trio, he found a combo of kindred spirits, much more than mere sidesmen, who supported admirably, taking solos of high quality and always catching the mood, the groove, the vibe that the reedman was putting down. The leader, on keyboard, let loose the whole gamut of styles, alternating big chords with deft, rapid-fire scoops, runs and turnarounds. He managed to playfully insert an extended quote from Stephen Foster's Swanee River into that composer's less-well-known song, One Foot In The Gutter, before furthering the amiably creative mood by slipping a bridging passage of pure Stride into what had been a slow funky etude. Tremendous!

Bob Walker, on electric bass and Tom Townsend, drums, were a rhythm section to die for, unfazed by the constantly changing tempos, which included a calypso and a Latino
.
This was a night of rare quality, then, a night for the connoisseur to listen, learn and take pleasure in the tremendous richness and diversity of our music – when played by a master of his art. In other words it was another night with Frank Brooker.
Andrew Liddle
0 Comments
Posted on 24 Jan 2018 by admin