Reviews
Alan Barnes and Jack Emblow (4th June 2014)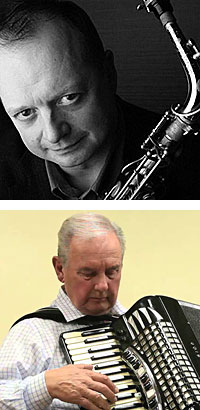 Jack Emblow has been at the top of his game as an accordionist for over fifty years, as the irrepressible Mr. Barnes reminded us repeatedly - sample quip to a photographer, "I should warn you, Jack is of such an age he doesn't actually come out in photographs" - and his work has included a substantial body of jazz. This fact has ducked the radar of some younger jazz fans, but this has probably been largely due to his playing where the spotlight has been on those that play more recognised 'jazz' instruments. But age, and Barnes' witticisms, not-with-standing, at The Cask it was plain 'in-your-face' obvious that Emblow's technique remains masterful, and, surreal sense of humour aside, Barnes doesn't need to be 'explained': his sax and clarinet work is recognised internationally, and he has long been a loyal supporter of jazz in Scarborough. On this visit his style was more swing orientated than it has been on other occasions, but that was apposite; in anticipation of trading solos with an accordionist, he was never likely to have been playing "Cherokee" or "Epistrophy".
Both guests played beautifully. Emblow's body language was that of a shy and reticent front-liner, but this was belied by the dazzlingly fluent speed, assured control, and the range of expression he wrung from his instrument; and the interplay of his deliciously delicate Gallic accordion work with Barnes' clarinet through "Gone with the Wind" was a standout, as was his extraordinary range of technique and timbre through "Darn that Dream". And Barnes was perfect, the consummate pro, never dominating in an untoward manner, and always complimenting his fellow players. But all parties deserve mention: Mike Hoggard's drumming was attentive and rock solid, and his breaks were imaginative (his work on "Green Dolphin Street" stood out - as did Barnes' stunning alto solo); Bob Walker only soloed during "Have you met Miss Jones?", but his walking bass styling was at times very striking, especially through "Time after Time", "Sweet Lorraine" and "Shine"; and Mike Gordon continually traded solos with the guests (to my taste the highlight being an atmospheric duet with Emblow leading to a glorious chorus on "Time after Time", with his piano sound having a surprising but perfectly judged Rhodes-like tone).
All in all this performance was a very suitable contribution to the club's thirtieth birthday celebrations. Happy birthday everyone!
Diane Watson
0 Comments
Posted on 10 Jul 2014 by admin