Reviews
The A.J.Brown Quartet (1st April 2015)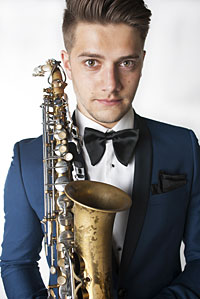 Unusually for a music review, the appearance of this band has to be mentioned. Suits were the order of the day for the backing trio, with their leader sporting a maroon jacket with black lapels and matching cuff buttons. All this was quite a contrast to what we are used to at The Cask, where musicians often wear the 'eternal student' uniform of T-shirt, jeans and trainers.

Branded music stands bearing A.J. Brown's blown up signature were echoed by an upright banner showing three photos of the leader and with contact details via Twitter and Facebook.

Thankfully, A.J. is not the egotist one might expect from all those show business trappings, proving himself to be a personable young man with an engaging microphone manner.

His alto sax playing was clean with a good sound and his singing voice was pleasant. This was a blessing as he sang on every number!

Drummer Tim Carter was nicely busy without dominating the group. Angus Milne was rock-steady on double bass in the ensembles and richly satisfying when soloing. He also used an electric bass sometimes, which had more presence but lacked the subtleties of the big bass.

Pianist Martin Longhawn (heard with the Firebird Quartet a fortnight earlier) was a welcome returnee. Personally, I could listen to Martin all night. He is endlessly inventive and accomplished.

The repertoire was thoughtfully chosen with well known standards, new songs and the odd surprise like Randy Newman's 'You've Got A Friend In Me'.

The band had many clever arrangements, catchy riffs and neat tempo changes. They also generated a powerful swing that was totally infectious.

One highlight (of several) was 'My Romance'. This began at ballad tempo with just alto and piano. Bass and drums then came in as the tempo lifted to a toe-tapping swinger on which everyone had a real workout, soloing at length. After a stimulating round of four bar exchanges - with A.J. scatting his contributions - the lyrics were sung, just as it looked as if the number was going to be an instrumental.

A.J. Brown obviously intends to be a big name in the business and there is no reason why he should not become one. With a generous seventeen numbers in the evening, he gave a capacity audience great value and much pleasure.
Dick Armstrong
0 Comments
Posted on 03 Apr 2015 by admin