Reviews
The Shannon Reilly Trio (6th May 2015)
T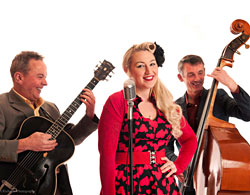 his trio cast a captivating musical spell over the audience. Shannon's singing imbued the most familiar material with a delightful freshness that was most welcome.

Her evident love of lyrics and her simple sincerity made even numbers like My Funny Valentine and Over the Rainbow sound newly minted.

She could not wish for finer musicians than Pat McCarthy and Warren Jolly. Their skills meshed to make a light, agile and airy sound that positively danced whether at ballad tempo or creating an infectious swing.

Warren's double bass sound had presence and clarity, providing a rich and sonorous quality mixed with nimble dexterity.

Pat is a masterly guitarist whose playing was a constant delight. His accomplished musicianship and his constant stream of invention was wonderfully rewarding. He is also a naturally funny man, so his announcements kept us amused.

The repertoire had some contemporary material amongst the great standards. It's All About That Bass and Big Bad Handsome Man were welcome inclusions, as were two McCarthy/Reilly compositions. These - Fallen and Alone Again - had a touch of humour and were very good.

There was one instrumental number. Pat had brought an acoustic guitar that he had inherited from his Uncle. This is a 1930's Epiphone with a unique sound. He and Warren played Django Reinhardt's Nuages, a well loved melody that had every listener transfixed.

The Shannon Reilly Trio is deservedly popular, their CD is excellent and I am not alone in wishing them further success.

Shannon has the potential to grow in stature as an artiste and could rival the best of our domestic vocalists.
Dick Armstrong
0 Comments
Posted on 10 May 2015 by admin